The story of UMH is one of a community taking care of its own, and emerged from humble beginnings. In 1928, Dr. George Merritt opened Uvalde's first 7-bed hospital in his home. In 1937, Dr. Merritt built a second hospital across from his home on Martin Street and increased the number of beds to 10. The Uvalde County Health Committee invited the community to a gift shower to stock the new $11,000 hospital and the community responded generously with gifts of bed sheets, towels, and mattresses.
Our Mission: To promote the healing of those we serve by providing compassionate, high-quality healthcare.
Less than ten years later it became evident to community leaders that a larger and more comprehensive facility was needed to meet the healthcare needs of the current residents, as well as provide an impetus for future economic growth. In February 1946, a bond issue was passed to finance the construction of Memorial Hospital on eight and one-half acres gifted to the hospital. The new $1 million, 21,000-square-foot, 39-bed hospital opened on September 20, 1949 at the corner of Garner Field Road and Puccini Lane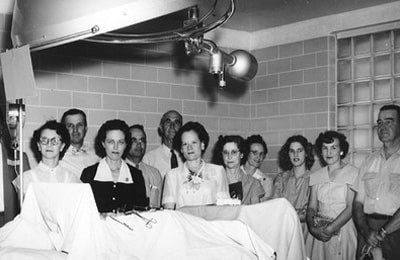 By the mid-1960's, the need for a larger and more sophisticated hospital was once again apparent and plans for a 53,000-square-foot building began. The Uvalde County Commissioners passed a resolution in January 1968 creating the Uvalde County Hospital Authority. This new political subdivision allowed the authority to sell revenue bonds to be repaid from the revenue generated from the hospital.
The current hospital was constructed next door to the original building and was built at a cost of $2 million; $1 million from a Federal Hill-Burton grant, $450,000 from the sale of revenue bonds and a generous $550,000 from community fundraising efforts. On February 2, 1971, the 62-bed hospital opened its doors with an intensive care unit, six maternity beds, and expanded services. In January 1996, a $4.2 million, 27,000-square-foot expansion project for outpatient services was completed. This expansion included new spaces for The Rehabilitation Center, The Women's and Newborns' Center, Emergency Department, Radiology, Laboratory, Cardiopulmonary, Registration, Medical Records, and Central Supply.
Our newest addition, Kate Marmion Regional Cancer Medical Center, was completed in 2010 with $5-million raised to bring the first radiation therapy treatment west of San Antonio and expand space for specialty care.