Our volunteers are vital to the mission of Uvalde Memorial Hospital and through their generous and tireless efforts the care provided to our patients and community is greatly enriched.
Uvalde Memorial has the following opportunities: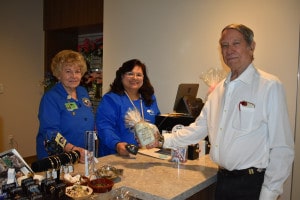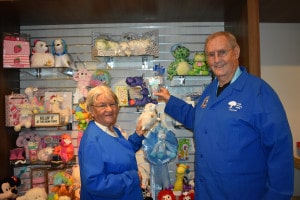 The hospital Auxiliary team plays a critical role in the day to day success and operation of the hospital. This dedicated group of individuals oversee the gift shop, the information desk, and serve as greeters in the Social Services department. In addition, they have a beautification committee that plants flowers in the courtyard and assist with decorating the hospital for holidays. Through the hosting of various fund raisers throughout the year, the Auxiliary offers an annual nursing scholarship and makes generous donations to the hospital for various projects and equipment needs.
For more information, please contact Beth Sanders, Volunteer Coordinator at (830) 278-6251 ext. 1358.
This group of volunteers serve a special role for our patients who are in hospice care. The volunteer may sit with a patient while their caregiver runs errands or simply visit the patient to talk, play cards, and provide companionship. In this way, the volunteer is there to help bring comfort and support to the patient and family. Hospice volunteers also deliver flowers to patients' homes every week. Clerical opportunities at the Hospice office is also greatly appreciated.
Opportunities for students include, obtaining service hours, completing intern or externships, and/or observing in a specific area of the hospital to help determine a future career path. Clinical and nonclinical departments are available for volunteer opportunities.   Volunteers must be over the age of 17 or have parent/guardian permission.
The volunteer program of Uvalde Memorial Hospital has been designed to enhance the comfort, care and happiness of our patients, families, visitors and community by providing extra services that supplement the functions of the employed staff.   Participants in the Junior Volunteer program must be at least 16 years of age and able to commit to at least 40 hours over the summer term.
Interested participants may apply by downloading the Junior Volunteer application and submitting to the Human Resources office.
Interested in learning more?
Complete the information below and someone will contact you.
We look forward to hearing from you!
(Required Fields*)